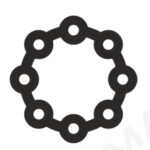 Flowz Coin FLWZ
Binance Smart Chain:
0x4B6A384D3A67954f29576c99f4972e79c86f3013
Flowz Coin is the platform token , a BEP-20 protocol have mechanism reduce inflation. Which provides an LP Acquisition algorithm, Static Rewards, Buy Transaction Limiter based on initial Total Supply.
Flowz coin is brief for decentralized money, DeFi is an umbrella time-frame for heaps of bundles and errands within side the public blockchain region outfitted nearer to disturbing the ordinary money world. Building a steady depository altogether as an organization.
Flowz Coin tokens is built and developed through our ecosystem: Exchange swap, NFT market, game, NFT, Defi, Farming.
VOTE HERE⤵