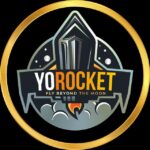 The time has come!!!!
🚀 YoRocket Features:
📈 YoSystem – Every time a new higher low is reached, sell taxes are increased to 25% to prevent dumps. Meaning the chart will be at a constant increase.
⌚️ YoTime – For one hour per day, buy taxes will be reduced to 1% (added to LP).
🎁 YoRaffle – A self-integrated raffle system built into the smart contract that automatically picks out winners frequently. The winners will be rewarded with a prize. ( 0.1 BNB = 1 raffle ticket)
♻️ YoStake- Investors can stake to earn double the YoRocket reflection tax!
🤝 YoSell – Max 5BNB per every 5 minutes. Min sell 0.01 BnB.
🖼 YoNFT – Coming soon…
🏆 Buy 8.0%:
♻️ 1% Reflection
🌐 3% Marketing
🎁 3% Raffle
💧 1% Liquidity Pool
🏆 Sell 12%:
♻️ 3% Reflection
🌐 4% Marketing
🎁 4% Raffle
💧 1% Liquidity Pool
VOTE HERE⤵