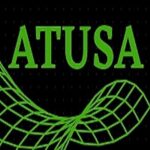 ATUSA ATUSA
Binance Smart Chain:
0x3f763636fa75d0b672dfa17ad04f51e3c9e56ded
What Problems Does ATUSA Solve?
1. It is well known that Renewable and Sustainable Energy is one the best ways to control global warming. ATUSA aims to hold international conferences and symposiums worldwide to prepare a platform for researchers and engineers to develop their knowledge in renewables and encourage them to employ green energy sources in their factories and projects. Moreover, ATUSA aims to publish sophisticated scientific papers in prestigious journals to make this information available to the public.
2. ATUSA will develop green electricity in the cryptocurrency mining process to make this process clean and environmentally friendly. Despite the potential profits of the renewable energy market, cryptocurrency miners find numerous problems and limitations regarding using renewables in the mining process. ATUSA, to maximize benefits and minimize costs investors, aims to solve issues such as:
• All Round Transactional Costs
• Integrity and Security
• Transparency of Transaction
• Time and Costs Savings
• Simplify and speed up the transfer of monies globally
3. Not only can renewable energy make cryptocurrency sustainable, but also cryptocurrency can develop renewable energy. It is possible to generate green electricity from renewable energy in so many regions globally; however, in most cases, it is not possible to transfer this electricity (or it is costly). For example, in some areas in China, a large amount of hydroelectrical power is generated; however, the power export capacity of this region is limited due to the lack of high-quality grid infrastructure. Moreover, in so many cases, it is required to employ advanced technologies to use renewable energy. For instance, a considerable amount of biogas is available in European countries, Japan, Southeast Asian countries such as Indonesia, Malaysia, and Thailand, which is wasted. ATUSA aims to develop the required technologies to use these capacities to convert them to clean electricity and use it in the mining process.
VOTE HERE⤵