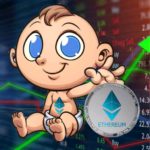 Baby Etherium BabyETH
Binance Smart Chain:
0xB6278Ba1aF82C39F488BA434fb19ED64C09E5f45
BabyETHERIUM
CONTRACT
0xB6278Ba1aF82C39F488BA434fb19ED64C09E5f45
The first BinanceSmartContract with double rewards
2% auto distribution for every transaction + 1% auto ETH reward every 5days.
computation must depends on your holding %.
Why Baby ETH?
❇️Earn Passive Income
💎2% Re-Distribution to holder
💎1% ETH Rewards every 5days
🔐25% Liquidity Lock
🔥75% Initial Burn
❇️Renounce Ownership
🚫DEV has no token
✅Verified Contract
✅SAFU
💎BABYETH TOKENOMICS💎
Total Supply
1,000,000,000
🔥75% Supply is burned at start
🔐25% LP lock forever
10% Taxes indicated below
5% fee auto add to the liquidity pool to locked forever when selling
2% fee auto distribute to all holders
1% fee ETH Rewards to all holders every 5 days.
2% fee Marketing Team for Events and Promotions
🔐3yrs LP LOCK
https://deeplock.io/lock/0x96f9dc49a936bb6ca134a72f098937a7f553aa09
🔥Initial Burn
https://bscscan.com/tx/0xf57bf524c834519aec003987bf6aabafbf2e3e15193c0f09cebf3046fea54e0f
❇️Renounce Ownership
https://bscscan.com/tx/0xf265e7b0a6c55471aaf272fa338f568dcbaaaa658c834f42589c291586f682fe
📊Chart
https://poocoin.app/tokens/0xb6278ba1af82c39f488ba434fb19ed64c09e5f45
💎PancakeSwap
https://exchange.pancakeswap.finance/#/swap?inputCurrency=&outputCurrency=0xb6278ba1af82c39f488ba434fb19ed64c09e5f45
please follow us
facebook
https://www.facebook.com/Baby-Etherium-105330098507163/
twitter
https://mobile.twitter.com/BabyEtherium
Channel
https://t.me/babyetherium
Group
https://t.me/babyetherium1
STAYTUNE FOR MORE UPDATES❗❗❗
Disclaimer: Investors should take the time to research any given product before they invest their funds (DYOR).
Join our Telegram Community CLICK HERE