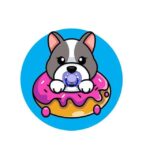 BabyDooDoo BDD
Binance Smart Chain:
0xb37b37feb9bd9ca624dcdcaa59b9e74f2e28fc72
*We started at 15UTC*800$MCAP*
Our project have TechRate audit and u can check it on bscheck.eu too.
Web deseigners now busy for website . We have roadmap and futureplans and we ll explain all of them.
Voicechat ll be open always. We are creating BabyDooDoo apps and using BDD coin %5 donation on game coin to BabyDooDoo community.
👶🍼🍼 BabyDooDoo is an auto-liquidity regenerated and Charity-Driven that is built on Binance Smart Chain Mainnet.
🌐 Website: Team working on BabyDooDoo app.We ll launch it in 18-23 hours.
📊 Chart : https://charts.bogged.finance/?token=0xb37B37fEB9Bd9ca624DcDCaa59B9E74f2e28FC72
Contract : 0xb37b37feb9bd9ca624dcdcaa59b9e74f2e28fc72
🗨 Telegram: https://t.me/babydoodooofc
Twitter : https://twitter.com/BabyDooDooOfc
🙌🏼Renounced ownership: https://bscscan.com/tx/0x01ebec12563a91e9cafab0eba7514803be68595d5102a39b91d02fccccbd9c25
✅Contract Verified: https://bscscan.com/address/0xb37B37fEB9Bd9ca624DcDCaa59B9E74f2e28FC72#code
🔥LP burned: https://bscscan.com/tx/0x72da8f8c98cae6c526454843482e670282c19cea8078fc12b31c1381220b34c9
Status:New
U can find all details ; 🗨 Telegram: https://t.me/babydoodooofc
Twitter : https://twitter.com/BabyDooDooOfc
**ANTİ-WHALE SYSTEM : MAXBUY and SELL:5000 billion ***
:100:SAFU
VOTE HERE⤵
Price
$0.00000000000612864