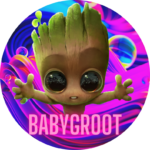 BABYGROOT BGT
Binance Smart Chain:
0x440142886De824059Ee275aC0CE48fa95C9287A1
BabyGroot was founded upon a set of core principles and values which focus upon the esteem associated with transparency and fairness. We are a team of four who are currently working on developing a fully functional charitable token. Holders will be able to vote on every facet of the project. A generous and democratic token concept.
BabyGroot's crew is made up of people from various professional and academic backgrounds, with a collective group of like-minded individuals and the unrivaled capacity and coordination that such a magical alliance prospers. This pure harmonic synergy has propelled BabyGroot to this point, and it is this sentiment that will propel BabyGroot and its community to even greater heights in the near future.
BabyGroot's goal is to elevate meme tokens to a higher creative level. A meaningful meme coin that serves as the centerpiece of a seamless holder reward and charity giving system built on the BSC blockchain. We are dedicated to providing our community with fairness and openness. Similarly, BabyGroot is honored to be the first democratic and charity-driven initiative as a community-driven project.
These traits, along with a seasoned team charitable aspect, position BabyGroot for long-term development and advancement. BabyGroot is just getting started, and we are thrilled to have you as a vital and valuable member of our tribe.
We cherish our holders highly, but we never lose sight of the fact that this initiative was established to aid non-profit organizations that aim to prevent newborns from being abandoned illegally.
Our features include:
– Automated liquidity generation
– Automated token burn mechanism
– Static rewards on every transaction
-Charity Donations
————————————
Total Supply: 100,000,000,000 $BABYGROOT
————————————
30% Burned
58% Liquidity / Pre-sale
8% Marketing, Influencers & Project Development
4% Charity
Liquidity Locked 🔐
Ownership Renounced 🚀
NO Dev's Wallet
VOTE HERE⤵