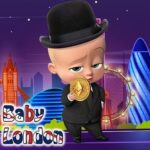 BabyLondon BabyLondon
Binance Smart Chain:
0x3dE0a68721BC846E950438071F6AFc1faA42EF3E
Baby London is about to mark the BSC territory!
In celebration of the new Ethereum London hard fork upgrade, we are happy to introduce you to Baby London! What is Baby London? Baby London is an Ethereum reflection token with 10% of every transaction benefitting you in Ethereum rewards which is always jolly good time.
Baby London is the only hard fork upgrade you will need to step into as well as begin earning one of the fastest and steadily growing tokens in the entire crypto space.
Have you always been interested in acquiring Ethereum but never have due to only having access to the Binance Smart Chain? Or possibly none of the tokens on the BSC were of the right benefit in Ethereum rewards? Well my friend you are in the right place as Baby London will be accessible to purchase through PancakeSwap!
It's time to earn some Ethereum and earn some passive Quid the London way, now go on then. Cheerio mate!
What are our Tokenomics ?
✅10% Ethereum Rewards
✅ 5% Marketing
✅ 3% Liquidity
Why invest in BabyLondon?
The question is why not…With the tokenomics to keep people interested and buying. BabyLondon is set to take its place as the next viral token on the BSC.
VOTE HERE⤵