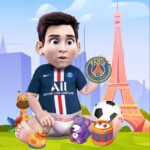 ⚽️ Welcome to BABYMESSI ⚽️
💎PRESALE COMING SOON💎
🏃Are you ready for the match? 🏃‍♂
⚽️BABYMESSI is the first token to give PSG fan token rewards and you know that coin is blooming!!!
Just hold 💰 BABYMESSI and you will see the PSG rewards every 90 minutes 🤑
We are the first and original BABYMESSI token with an influencers army and a solid team behind 💪
Why You Should Hold on to BABYMESSI ⁉️
🔅Rewards in your wallet 🔆
🔴 Dividend rewards
Watch your rewarded PSG coins grow as all holders automatically receive a 8% from each transaction.
12% fees on purchases.
17% fees on sales.
🔴 Aggressive marketing campaign!
We have influencers with millions of followers supporting this project.
🔴Tired of missing good projects?
💎PRESALE coming soon!!!!!!
🔒 Liquidity locked for six months.
💡Verified contract.
📄 Contract audited.
📥 TOKENOMICS 📤
🎁 8% REWARDS TO HOLDERS
✨2% MARKETING WALLET
💰 1% LIQUIDITY POOL
👨‍💻 1% TEAM
JOIN OUR COMMUNITY NOW ☑️
PRESALE: 16/08/2021
VOTE HERE⤵