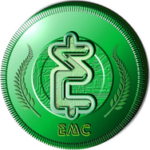 EcoMiningCoin EMC
Binance Smart Chain:
0x5e8a68512ca2e64bb33ad1043042c95965ef84a4
EcoMiningCoin will build the first 100% solar powered cryptocurrency mining farm.
Which will host more than 500 Antminer L7, which will allow us to mine (thanks to merged mining) Litecoin and Dogecoin.
Being able to distribute 60% of what is generated monthly among the 100,000 Holders with the most EcoMiningCoin.
This project will have 5 Stages:
Stage 1: Launch. (In which we will dedicate ourselves to the initial marketing of the coin).
Stage 2: Land (We will buy a 1000 m2 land for the cryptocurrency mining farm and we will obtain the necessary papers and licenses for the construction).
Stage 3: Construction (We will build the mining farm that works with solar energy).
Stage 4: Antminer L7 (We will buy 500 Antminer L7 to mine).
Stage 5: Mining (We will start mining and put to a vote whether to buy another 500 Antminer L7 or burn those remaining tokens).
VOTE HERE⤵