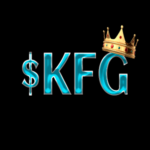 KINGFEG KFG
Binance Smart Chain:
0x08228ee2563a0b97c46756417978c926cdc821aa
W h a t i s K I N G F E G t o k e n ($ KFG)
The KINGFEG pre-sale site will be redesigned for the main idea behind the creation of this token.
KINGFEG SPACE is planned to investigate smart contracts for vulnerabilities in their code and other useful information.
Everyone will be able to conduct a mini audit of any smart contract, regardless of which blockchain it is in.
This will not be a full detailed audit that needs to wait for several days, but a quick preliminary online analysis that takes about ~ 2 minutes
and at the same time showing all the information about the smart contract.
KINGFEG SPACE makes it easy to collect information in one place in minutes.
Now there's no need to collect information piece by piece from different sources.
After the analysis, you will have access to:
• date of smart contract deployment;
•social media ;
• existing references and reviews;
• creators, if they are not anonymous;
• scanning the smart contract code for vulnerabilities;
• other important characteristics.
Beta test — free to use the platform.
After identifying all errors and eliminating them, the analysis of smart contracts will be carried out for a fixed low fee.
The price will not be higher than $ 10 and will depend on the selected analysis functions.
Payment will be accepted in BNB and $KFG.
KINGFEG — The King of Tokens will make the smart contract space more transparent.
VOTE HERE⤵