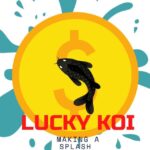 Lucky Koi KOI
Binance Smart Chain:
0xd8e42870b2e59a5cb0679eef62d290a7877cc66a
Lucky Koi Finance 💰
Lucky Koi Finance is a unique BSC token that is 100% with locked liquidity and renounced ownership.
5% Rewards
5% auto liquidity
2% charity wallet
Airdrops at 7 21 42 and 63 days to holders only
Weekly lotto draws
Check us out @ https://t.me/Luckykoisale
Lottery 💸
Lotto will take place every Sunday! Each week there will be 2.5 trillion tokens awarded to 10 holders, meaning each winner will receive 250 billion tokens!!!!!!!
As the token grows so will the prizes!!! Each week there will be bigger and better prizes for YOU to be involved in! Join Lucky Koi Finance now to be part of the only token 100% designed to reward its holders!
Eligibility 📃
To be eligible to enter the lotto, all you need to do is hold a minimum value of $50 worth in token, and you will be automatically entered! Team wallets will be excluded from the draw!
Draws will be held in telegram chat either via random number generator via voice chat on a live platform (TBA)
Airdrops ✈️
Airdrops will be carried out at set intervals after launch. We have set aside 30 trillion tokens for this!! Announcement on airdrops will be made after launch!!
Burn 🔥
We have burned 27% of the total supply at the start of this token! Additional burns will take place with each buy and sell order! Tokens will automatically be sent to the dead wallet! 🔥
Token details
Total supply: 1,000,000,000,000,000
Burned: 27%! 🔥
Airdrops: 3% ✈️
Lotto fund: 10% 💰
Marketing
Twitter influencer with over 50k followers and another one at over 500k
Lucky Koi merchandise store soon live on the website! Free giveaways announced after launch! Check the telegram for pictures of the Lucky Koi merchandise! 🌞
Website: https://lucky-koi.club/
Telegram: https://t.me/Luckykoisale
Twitter: https://twitter.com/home
Chart: https://poocoin.app/tokens/0xd8e42870b2e59a5cb0679eef62d290a7877cc66a
Contract address:0xd8e42870b2e59a5cb0679eef62d290a7877cc66a
Buy link: https://exchange.pancakeswap.finance/#/swap?outputCurrency=0xd8e42870b2e59a5cb0679eef62d290a7877cc66a
Tokenomics
Auto liquidity: 5%
Rewards: 5%
Whale protection
Liquidity locked
Ownership renounced
VOTE HERE⤵