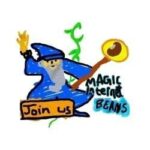 Magic Internet Beans BEANS
Binance Smart Chain:
0x13da180a9fdcee33768e5dccb12f759ee26000e9
Magic Internet Beans is a deflationary coin on the Binance Smart Chain (BSC). A 5% tax is applied to all transactions which are distributed to fellow Bean holders. Another 5% tax is sent to the Liquidity Pool. Ownership was renounced on launch day. 45% were burned at launch. Liquidity is locked forever, with Cake-LP sent to a dead address.​
Magic Internet Beans Token Info
📝Ownership Renounced (to a dead address)
🔥Liquidity is BURNT.
🔒100% Safu with Active Dev & Community.
📈Long Term Meme Coin
🧼Clean Rug Screen on Both Token Sniffer & Moonarch
💲Taxes: 5% Reflections, 5% to Liquidity Pool. No Marketing Tax.
VOTE HERE⤵