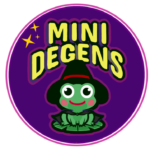 MiniDegens Mdegens
Binance Smart Chain:
0x783EF6749fE839BB30F619F1B37DD7186EC7942d
MiniDegens
Venture into escpades that go beyond all all sense of "logic". Embark on a journey where only few succeed. Unravel mysteries, discover landscapes with ancient puzzles and be prepared any kind of danger that lurks nearby. So strap on those degen boots let's M.o.on.
8% tax : 4%LP / 4%Prize/Marketing
Free to play P2E (retro look) game in the making as we speak.
Game is going to be free to play for everyone and available on multiple platforms. Yet holders of MiniDegens will have alot if opportunities to win unique NFTs.
More info can be found on our website and socials.
Whitepaper:
https://docs.minidegens.com/
Youtube :
https://www.youtube.com/channel/UC0DeOsQE-kitANf6xvUB-ng
Instagram:
https://www.instagram.com/minidegens?r=nametag
Medium:
https://medium.com/@Mini_Degens
Medium (dev journal) :
https://medium.com/@minidegensblog
Reddit
https://www.reddit.com/r/MiniDegens/
Discord
https://discord.gg/GzuYfRNz73
VOTE HERE⤵