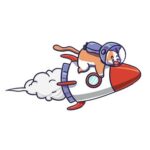 Binance Smart Chain: 0x56ac565b5bb244f6e16f1023bc88c7ee57f59f05
MoonKitties are a team of cute kitties on a mission to the moon in search of treasure. $MEOW is the currency required to fuel the journey. Purchase & HODL some $MEOW and join our kitties on their moon mission.
$MEOW is a decentralized community-driven cryptocurrency with automatic rewards for all holders. Awesome team. Amazing growth.