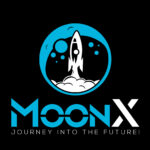 MoonX $MOONX
Binance Smart Chain:
0xc4fB957e3F1c04C8Dc4000525e55920861F25bFc
MoonX is a hyper deflationary Utility Token that will revitalise the BSC space and bring the crypto community together on this unified mission to the moon.
MoonX is designed to increase in value as time progresses via its anti-gravitational auto-burning mechanism.
The idea is that MoonX both establishes and sustains a higher price floor than most other cryptocurrencies, due to its constant burn and demand, created via ProjectX.
The strategic relationship between MoonX and ProjectX enables both entities to work in unison with one another and offer each other the freedom to thrust their way to the top of the crypto universe!
MoonX is the native currency on the ProjectX platform that is currently in development.
VOTE HERE⤵