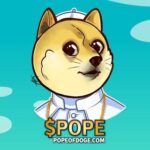 POPE OF DOGE POPE
Binance Smart Chain:
0x7df3b6ce45c9039ff6c0a2de81714de43bb242f2
Supreme pontiff of blockchain, head of the worldwide Crypto Church and head of state or sovereign of the Vaticoin. Join our congregation and bless yourself with passive income and a Popemobile.
$POPE is an autonomous yield and liquidity generation protocol that directly rewards the holders, while continuously increasing liquidity. The token rewards the investors just for holding; the longer you hold, the bigger the reward!
5% of every transaction is taken and re distributed to all Pope of Doge
holders. The burn address is also a holder thus each transaction helps deflate the supply.
Anti-whale & anti-bot system: No wallet holds more than 2% of token supply and no transaction can involve more than 5 trillion tokens. This will avoid massive sales of large amounts.
Liquidity pool locked and ownership renounced.
No dev team or marketing team wallets. Fair launch.
VOTE HERE⤵