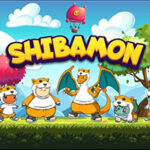 Shibamon Shibamon
Ether Scan:
0x36b00c4c6ce3653a091c7940fc98c3acb0043871
It is shiba season. You look up and it's raining cats and shibas, you look down and you see shiba on billboards and bus ads. Come join us at Shibamon, your one stop shop for the latest rare catches in the Shiba region during this shiba monsoon!
⚡️ SHIBAMON ETH PROJECT
🥽 AUGMENTED REALITY GAME IN THE WORKS
🎨 RARE AND SHINY NFTS! EVOLVE THEM! TRADE THEM!
⚖️ TOKEN + NFT STAKING ECOSYSTEM!
🔄 EVOLUTIONARY TAXES – BEST SCHEME CHOSEN AT ALL TIMES!
💰 REFLECTION RIGHT BACK TO YOUR WALLET
🔫 ANTI SNIPE MECHANICS
🆔 AUDITED BY DESSERTSWAP
🔐 LIQUIDITY LOCK WITH UNICRYPT
↔️ TRADE ON UNISWAP
VOTE HERE⤵