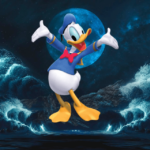 Travel To Earn DMD
Binance Smart Chain:
0xF7ebb4dBa75e87E670Dd1C1AC8FbC0688c8F2c1a
Travel To Earn is potential travel platform on WEB3. The born system is built and strongly developed on
Binance Smart Chain operating on a decentralized network. Travel To Earn combines mechanisms: SocialFi
– DeFi – GameFi – Dapp.
Travel To Earn presents you the first Travel To Earn Platform. Connect Metaverse & GameFi to the real
world. $DMD makes you more amazing experience
We build the foundation on a complete ecosystem that combines the Staking NFTs system and passive
income on the $DMD token, while providing significant discounts and continuous cashback to the
travel holders. our calendar!
SocialFi, Travel To Earn drives millions of customers towards Blockchain technology solutions and
connects the public to WEB3. From there, users can create WEB3 from our shared decentralized platform
VOTE HERE⤵