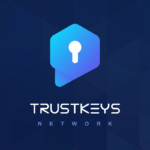 TRUSTKEYS TRUSTK
Binance Smart Chain:
0xee89bd9af5e72b19b48cac3e51acde3a09a3ade3
TrustKeys offers Hybrid crypto's applications in one single ecosystem that provided individual data security within the digital assets management and exchange.
• Decentralized account model (DAM) bring secure private wallet, connect smoothly with DEXes, bring user a smooth experience of CEXes
• The first CryptoNoCurrency SuperApp (Crypto-Not-Only-Currency). End-to-end encrypted Messenger and Blockchain-style social network.
• Full bind collection to give a solitary access to spot and subsidiaries exchanging
• Aggregates standard DEXes on different public chains.
• Further totals spot and subsidiary exchanging on standard CEXes.
• Supports cross-chain trade exchanges.
• Intelligent routing and machine learning to offer best rates
• Intelligent steering and AI to offer the best rates and least potential gas expenses
• Offers the best cost to clients by contrasting the costs on amassed DEXes and the best cost on CEXes.
Private sale lock 18 months, vesting 15% of total dep each quarter
Pre-sale lock 12 months, vesting 20% of total dep each quarter
Team Token Vesting Plan
Total 200,000,000 TRUSTK is allocated to the Team. After 5 years locked, Vesting periods in
24 months – by monthly
Funds Usage
• 20% – Ecosystem development
• 10% – Cost of operation
• 25% – Develop platform
• 25% – Liquidity and exchange
• 10% – Marketing
• 10% – Startup Foundation
VOTE HERE⤵