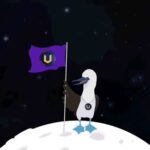 UltraNFT UNFT
Binance Smart Chain:
0xdb29192fc2b487bb5185e155752328d4f249743c
NFTs (non fungible tokens) are a special type of cryptographic token that represents something unique; Ultra NFT has focused on endangered natural wonders in the NFT market and making them a part of the NFT ecosystem. Since endangered animals are as unique natural wonders as NFTs, we chose the blue-footed booby as the mascot for our platform.
With the nft platform we will set up on our own website, users can produce their own nft and put them on sale on the nft market side of our website. At the same time, plans for rapid expansion were made with additional Dapps covering more NFT area. These will include nft collectibles, games, nft farms and stakes.
Ultra NFT supports Nature and animal associations with income from all trades. You can follow our projects and studies on this subject through our announcement channels.
We will create our unique NFT collections in different categories and include them in our special sales section. With Ultra NFT, you will make a profitable investment and support natural life. Make sure you follow us on social media.
VOTE HERE⤵